Level Up Your Outdoor Entertainment with The Terrace by Samsung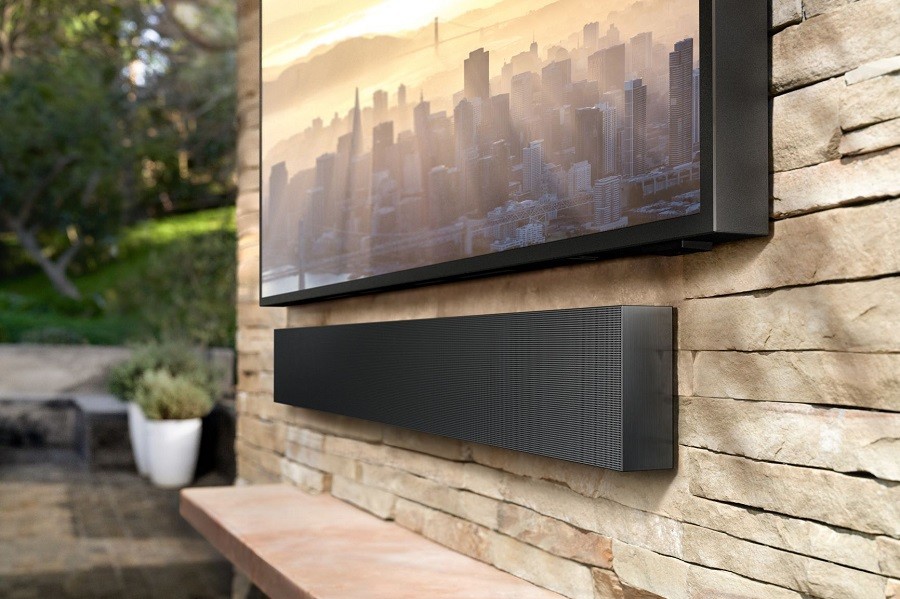 The Terrace TV and Soundbar Are Exciting New Options for Your Outdoor Audio Video System
With summer nearly here, we've been writing about the advantages of creating the perfect entertainment zone in your backyard so that you can enjoy music and movies under the sun and stars.
While there's no shortage of products to choose from for your dream outdoor audio-video system, we're excited to introduce a new option that suits a variety of outdoor environments and applications.
Say hello to The Terrace QLED 4K Smart TV and soundbar by Samsung! Learn about these exciting new products for your outdoor entertainment enjoyment in Westchester County, NY, and surrounding areas.
SEE ALSO: 4 Worth-It Reasons to Add Outdoor Audio to Your Backyard
QLED 4K Performance Under the Sun
The stunning QLED 4K picture you enjoy on Samsung's indoor displays can now be enjoyed outdoors with The Terrace full-sun or partial-shade TVs. Whether you're under a covered patio or catching some rays in the pool, you'll experience sharp, vivid picture quality that doesn't wash out in extreme brightness. Watch as your TV shows and movies come to life with brilliant color and contrast.
The Terrace TVs are chock-full of features that attribute to their outstanding performance in the outdoors. Anti-reflection technology minimizes reflection from the sun and enhances contrast, so you enjoy more visibility and less glare on the sunniest days. Adaptive picture technology ensures viewing stays perfect at any time of day by optimizing picture settings based on surrounding light conditions.
Assured Protection in Rain or Shine
It goes without saying that any technology you put outside should be able to defy the elements in some capacity. If you place AV technology meant for the indoors in your backyard, you'll likely void your warranties, experience low-quality performance, and cause irreparable damage to your expensive gear.
The Terrace TVs are IP55 rated, which means they're protected against dust ingress and water. They also perform under temperatures as low as -22°F and as high as 122°F and can withstand inclement weather like snow and sleet. The full-sun model can even perform without a hitch under direct sun exposure.
Seamless Connectivity
The Terrace smart TVs are Wi-Fi enabled, so you can easily access your favorite streaming services like Netflix, YouTube, Disney+ and Prime Video. Wi-Fi and Bluetooth capabilities also allow you to connect to wireless speakers, compatible smartphones, and more.
Each TV comes with an HBase-T receiver to connect any external devices, like media servers. Plus, the built-in Media Bay provides extra support for media sticks and protection from the elements. Pair your system with Samsung's IP56-rated hand-held remote that includes a microphone for easy voice control.
Sound Optimized for the Outdoors
We haven't forgotten about The Terrace 3-channel soundbar. The perfect match to The Terrace TVs, this powerful IP55-rated soundbar is optimized to outperform competing outdoor sounds. Its distortion canceling technology reduces distortion so that outdoor audio and bass stay clear, dynamic, and deep.
Speaking of bass, The Terrace soundbar includes a built-in 210-Watt subwoofer, as well as a center channel for crystal-clear dialogue. It also features Dolby Atmos support for immersive, 3-D sound and analyzes your content to deliver optimized sound based on every scene. When you're not watching TV, stream music instead by connecting to your smartphone or other devices via Wi-Fi or Bluetooth.
For a quick, easy, and fault-proof installation, work with the AV professionals at Digital Home Systems. We'll help you choose the best location for your TV and soundbar, integrate it with your AV distribution or home automation systems if needed, and show you how to get the most out of your setup.
To start your project, contact us here or call (914) 939-7000. We look forward to hearing from you!
Stay Informed
When you subscribe to the blog, we will send you an e-mail when there are new updates on the site so you wouldn't miss them.