Experience the Best Home Entertainment with an Outdoor TV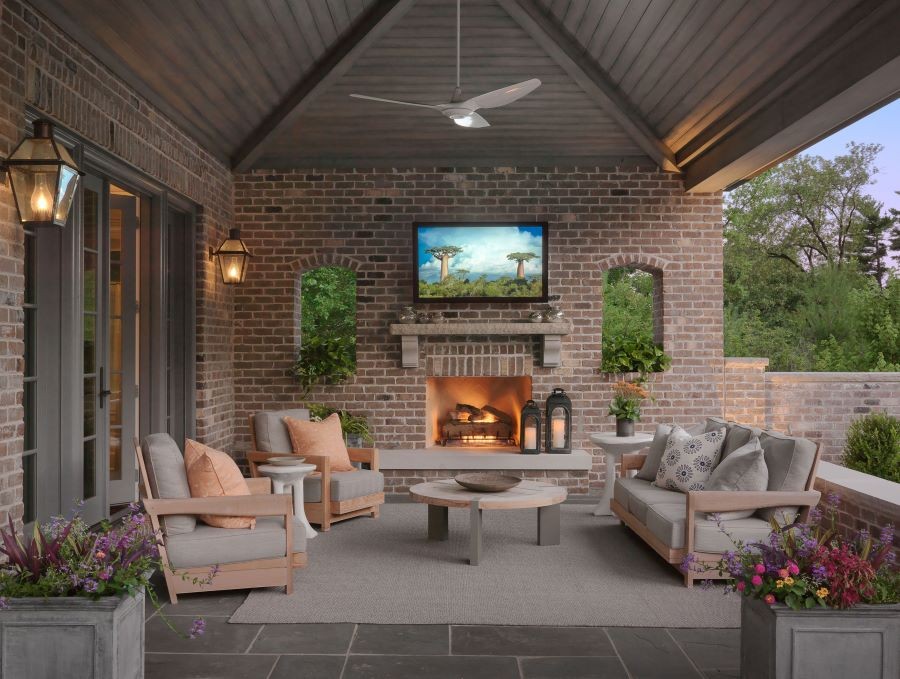 Enjoy Movies Under the Stars and the Big Game on the Patio
We're fortunate to live in such a beautiful area, and now that it's warming up, it's time to dust off the patio furniture and make the most of our outdoor spaces. From spending time with loved ones around the pool or dining al fresco under the stars, nothing quite beats time spent surrounded by nature in our backyards.
As outdoor living spaces become extensions of our homes, more people are incorporating entertainment that rivals their indoor counterparts. From impressive sound systems that bring concert-like quality to an outdoor TV that defines the best in video, the latest technology solutions are built to be enjoyed in the open air. Today, blockbusters, sporting events, and our favorite high-resolution playlists are experienced while immersed in the beauty of the outdoors.
Let's explore one of our clients' favorite entertainment solutions—outdoor TVs—and the brands that offer incredible images and sound, whether relaxing on the patio or lounging in the pool.
SEE ALSO: Here's Why You Need an Outdoor Speaker System
The Ultimate Entertainment: An Outdoor TV
Today's outdoor TV systems create an amazing outdoor cinema experience. At Digital Home Systems, we partner with the best audio-video brands to ensure our clients the ideal entertainment for their unique settings and needs. Two of those brands in the outdoor TV arena are Séura and Samsung.
These TVs offer brilliant colors with bright, crisp images, even in direct sunlight. Samsung's The Terrace launched in 2020 as part of their lifestyle TV portfolio. Its QLED, or Quantum dot technology, emits precise colored light and, thanks to AI, upscales lower-definition content to 4K or 8K quality. In addition, the Adaptive Picture auto adjusts, creating the perfect image for the varying levels of light and darkness. The Terrace offers displays up to 75 inches.
By the Pool or on the Patio
There was a time when outdoor TVs required protection from the sun and water. Those days are long gone. Now, TVs are found at the pool's end, on patios, and in courtyards next to fountains. With anti-reflection technology and screens three times brighter than indoor TVs, you no longer have to worry about the sunlight's glare.
Séura's outdoor 4K UHD with HDR TVs are four times the resolution of regular HD, delivering bright, vivid, true-to-life pictures to outdoor environments. These displays reach 85 inches. In addition, the Extreme Temperature Protection ensures your TV can operate no matter what weather Connecticut's Gold Coast throws at it, withstanding pouring rain, wind, snow, and heat, with temperature resistance ranging from -40°F to 140°F.
There's nothing quite like summer evenings on the Long Island Sound. Whether exploring entertainment for outdoor movies around the firepit or in the pool, weekend sporting events, binge-worthy series, or tuning into the morning news while enjoying coffee on the patio, today's systems offer an incredible experience.
At Digital Home Systems, we combine the latest automated technology with best-in-class audio and video, creating the ultimate home entertainment that's effortless to control. To learn about the many options for outdoor TVs or to schedule a complimentary consultation, contact Digital Home Systems today.
Stay Informed
When you subscribe to the blog, we will send you an e-mail when there are new updates on the site so you wouldn't miss them.