Make the Most Out of Your Patio by Adding Outdoor Shades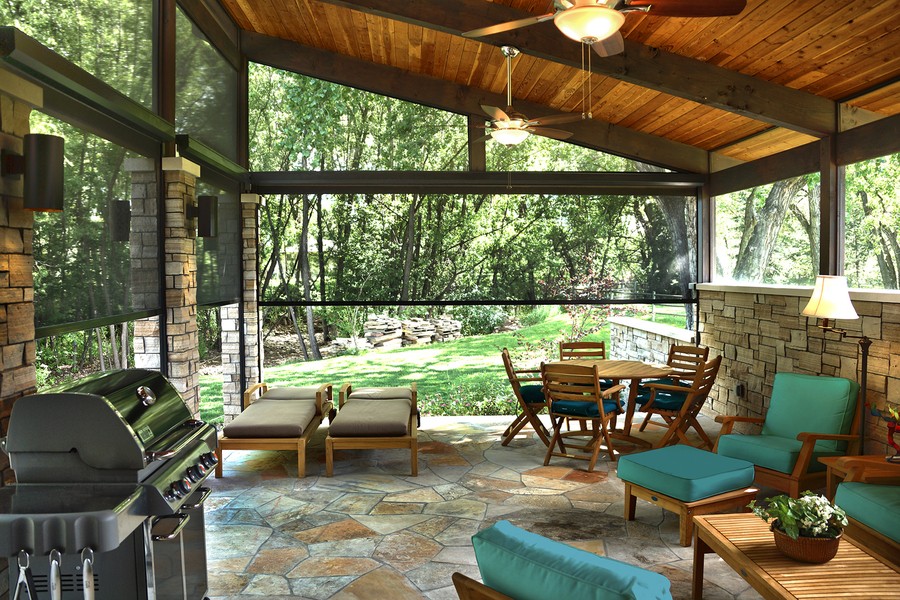 Create a three-season room by integrating a shading system into your outdoor area
Imagine creating the perfect outdoor entertainment space only to find it unusable when it gets too hot or cold. Let's not forget the creepy crawlies that can spoil all the fun. But adding a shading system to your outdoor space can create a three-season room.
A three-season room allows you to enjoy your outdoor entertainment features throughout the year, regardless of the weather conditions.Read on to discover the benefits of having outdoor shades in your home in Greenwich, CT.
SEE ALSO: More Is Less? What It Means for Outdoor Audio
Extended Use and Living Space
If you have an open patio, you can increase the living space of your home by adding a shading system. It will be like having an entirely new addition to your home with complete coverage from all sides. Moreover, you can get more use out of your outdoor space, regardless of the weather or time.
Temperature Regulation Throughout the Year
One of the significant benefits of integrating a shading system to the outside area is that it regulates the temperature. During summers, it keeps your space nice and cool by blocking out the sun's harsh glare. It also offers complete UV protection, protecting your furniture from discoloring or deteriorating.
It warms up your space on colder days by sealing in the heat and reducing the wind. That seal can be just as useful on the hottest summer days. The temperature maintained by your heater or air conditioner remains the same, without any leaks through your closed shades. Consequently, you get a three-season room that can be used throughout the year with the changing seasons.
Gets Rid of Bugs and Insects
Bugs and insects crawling their way up your arm can freak anyone out. And one of the downsides of outdoor entertainment solutions is that you get the creepy crawlies for free. But with outdoor shading systems, you'll never have to worry about dealing with pests ever again.The shades are designed to keep the bugs and insects at bay, allowing you to maximize the fun in your outdoor space.
Flexibility for Adding More Entertainment Features
When you can completely relax in the open space, you can add any entertainment features worry-free. Consider integrating outdoor AV solutions including weather-proof speakers and TVs to take the enjoyment to a whole new level in your three-season room.
Make your home more fun with custom outdoor shades. Digital Home Systems offers the best shading solutions in Greenwich, CT. Call (914) 939-7000 or fill out an easy online contact form to get more details.
Stay Informed
When you subscribe to the blog, we will send you an e-mail when there are new updates on the site so you wouldn't miss them.